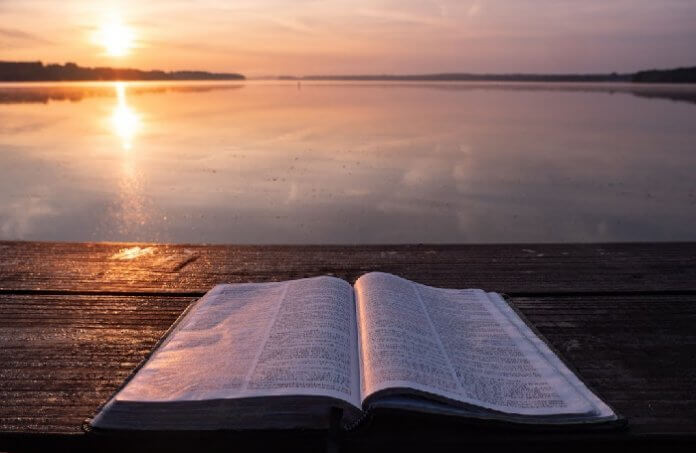 When you feel your peace threatened, which Bible verses will help you alleviate anxiety, stress and worry?
Many of the characters and authors in the Bible knew what it was like to feel anxious…Jesus included!
But you don't have to keep on worrying. You can live a holy life of joy and faith as a child in God's kingdom.
Here are 10 Bible verses for anxiety that'll destroy worry, reclaim your peace, and bring you rest.
Bible Verses for Anxiety
1. "For surely I know the plans I have for you, says the Lord, plans for your welfare and not for harm, to give you a future with hope." — Jeremiah 29:11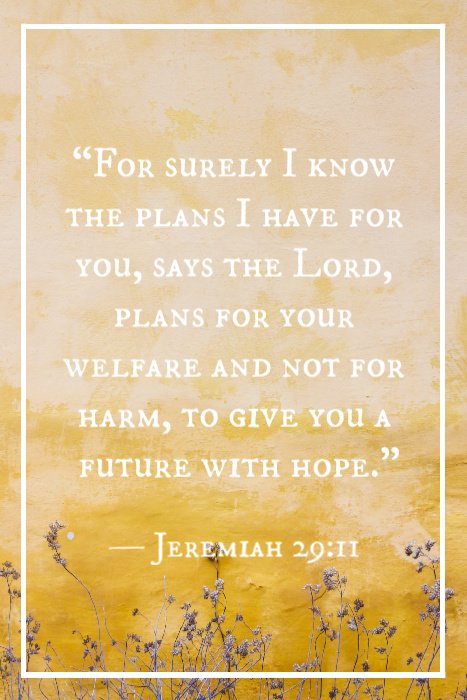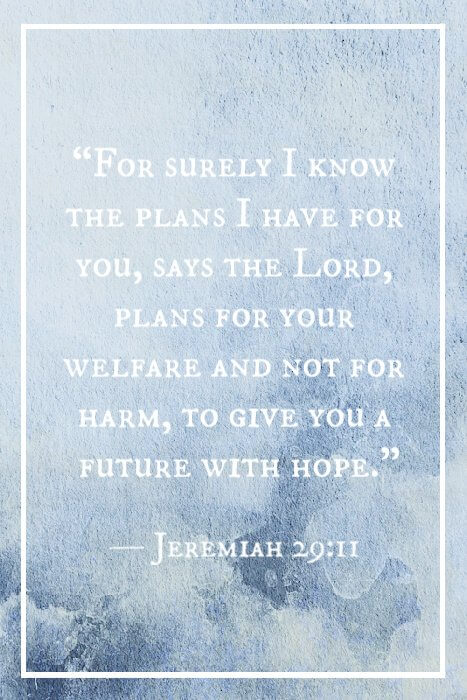 ---
2. "We know that all things work together for good for those who love God, who are called according to his purpose." — Romans 8:28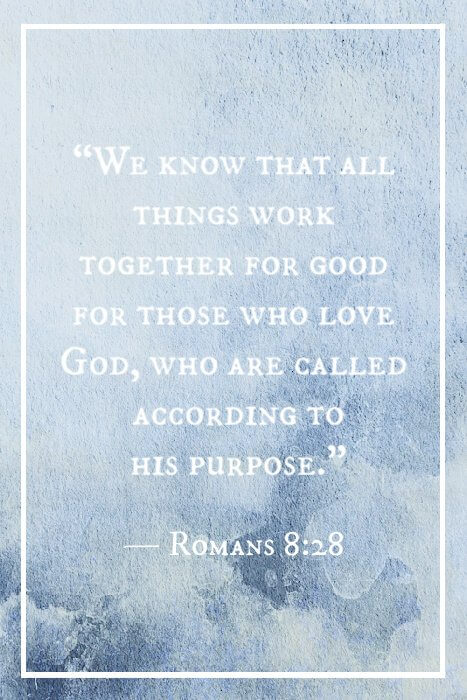 ---
3. "Humble yourselves therefore under the mighty hand of God, so that he may exalt you in due time. Cast all your anxiety on him, because he cares for you." — 1 Peter 5:6-7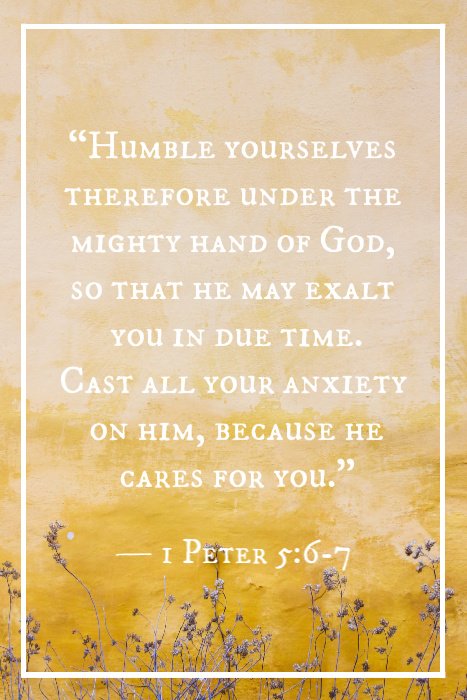 All Scriptures used in this post are from the New Revised Standard Version Catholic Edition (NRSVCE).
---
4. "Do not worry about anything, but in everything by prayer and supplication with thanksgiving let your requests be made known to God." — Philippians 4:6
---
5. "Cast your burden on the Lord, and he will sustain you; he will never permit the righteous to be moved." — Psalm 55:22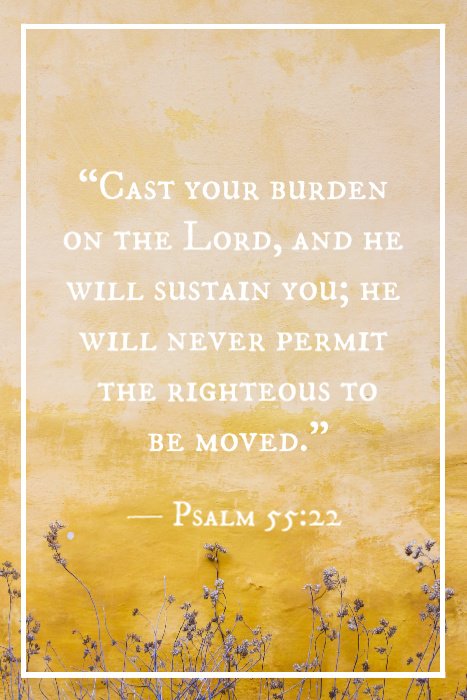 ---
6. "Peace I leave with you; my peace I give to you. I do not give to you as the world gives. Do not let your hearts be troubled, and do not let them be afraid." — John 14:27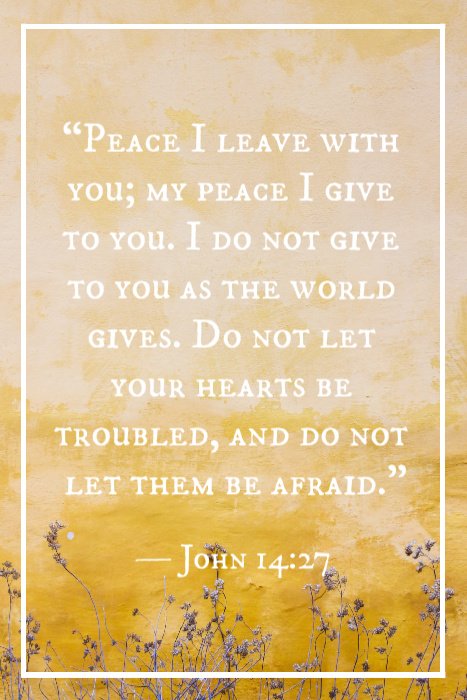 ---
7. "Do not fear, for I am with you, do not be afraid, for I am your God; I will strengthen you, I will help you, I will uphold you with my victorious right hand." — Isaiah 41:10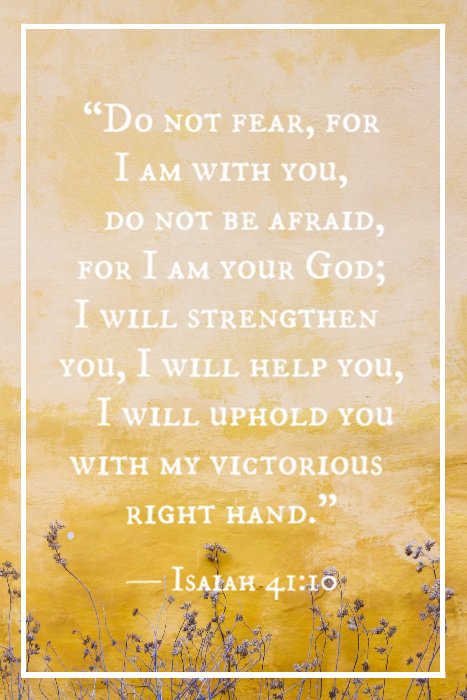 ---
8. "Trust in the Lord with all your heart, and do not rely on your own insight." — Proverbs 3:5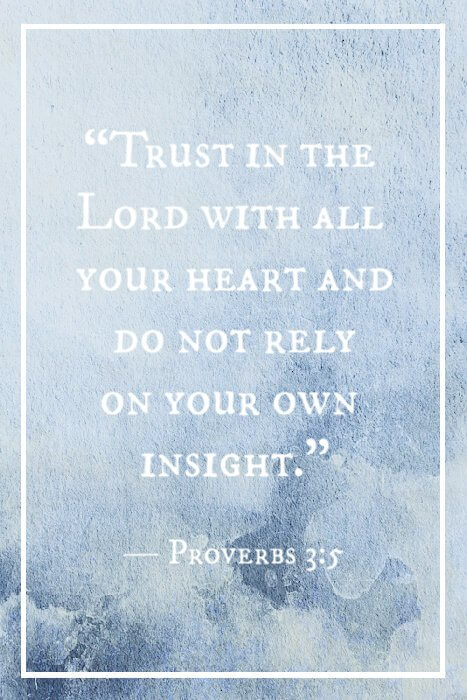 ---
9. "Therefore I tell you, do not worry about your life…can any of you by worrying add a single hour to your span of life?" — Matthew 6:25-27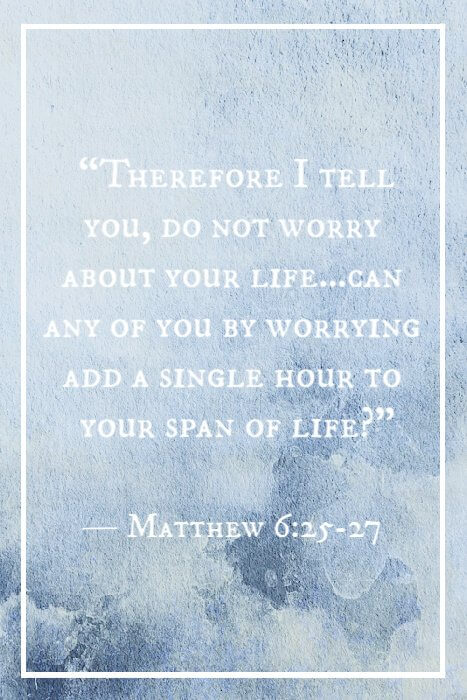 ---
10. "I have said this to you, so that in me you may have peace. In the world you face persecution. But take courage; I have conquered the world!" — John 16:33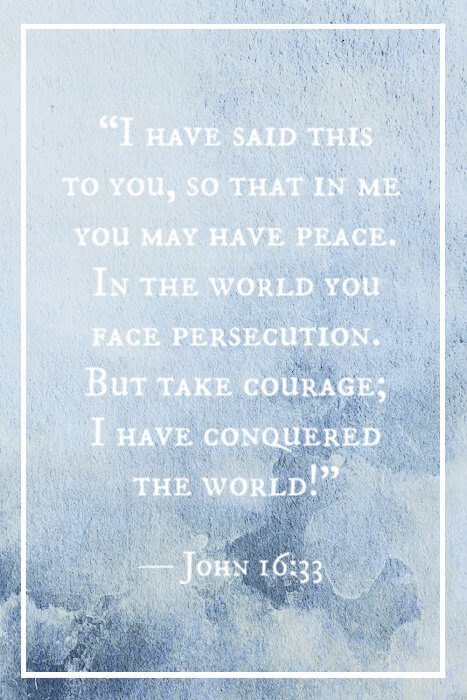 ---
Other Bible Verses About Anxiety
Here are other great Scriptures you can read that'll give you some strength next time you're tempted to worry!
If you'd like me to make any of these into images too, just comment below and let me know!
1 Peter 3:14 — "But even if you do suffer for doing what is right, you are blessed. Do not fear what they fear, and do not be intimidated…"
Psalm 34:4 — "I sought the Lord, and he answered me, and delivered me from all my fears."
Psalm 56:3 — "…when I am afraid, I put my trust in you."
2 Timothy 1:7 — "…for God did not give us a spirit of cowardice, but rather a spirit of power and of love and of self-discipline."
1 John 4:18 — "There is no fear in love, but perfect love casts out fear; for fear has to do with punishment, and whoever fears has not reached perfection in love."
Psalm 94:19 — "When the cares of my heart are many, your consolations cheer my soul."
Isaiah 43:1 — "But now thus says the Lord, he who created you, O Jacob, he who formed you, O Israel: Do not fear, for I have redeemed you; I have called you by name, you are mine."
Proverbs 12:25 — "Anxiety weighs down the human heart, but a good word cheers it up."
Psalm 23:4 — "Even though I walk through the darkest valley, I fear no evil; for you are with me; your rod and your staff—they comfort me."
Joshua 1:9 — "I hereby command you: Be strong and courageous; do not be frightened or dismayed, for the Lord your God is with you wherever you go."
Matthew 6:34 — "So do not worry about tomorrow, for tomorrow will bring worries of its own. Today's trouble is enough for today."
Deuteronomy 3:22 — "Do not fear them, for it is the Lord your God who fights for you."
Revelation 1:17 — "When I saw him, I fell at his feet as though dead. But he placed his right hand on me, saying, "Do not be afraid; I am the first and the last…"
Mark 5:36 — "But overhearing what they said, Jesus said to the leader of the synagogue, "Do not fear, only believe."
Romans 8:38-39 — "For I am convinced that neither death, nor life, nor angels, nor rulers, nor things present, nor things to come, nor powers, nor height, nor depth, nor anything else in all creation, will be able to separate us from the love of God in Christ Jesus our Lord."
Zephaniah 3:17 — "The Lord, your God, is in your midst, a warrior who gives victory; he will rejoice over you with gladness, he will renew you in his love; he will exult over you with loud singing…"
---
Do you know of any more good Bible verses for anxiety? If so, please feel free to comment below!