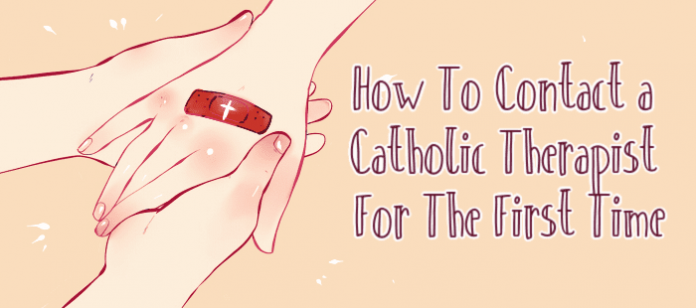 If you're naturally anxious and timid, you can struggle to ask for help and, when you're determined to do it… You freeze.
You're stuck in front of the phone after dialing the number or you start to freak out in front of the email you just wrote.
Contacting a Christian therapist must be among the most nerve-wracking things I've done. However, it completely changed my life as well as improving my mental health.
If you struggle with picking up the phone or sending that email, adopt this step-by-step process with me. By the end of this post, you'll be able to contact a therapist without stress!
Do not forget:
If you feel uncomfortable with any therapist, you're absolutely free to stop seeing them.
If you feel like they don't respect your faith or values, you're allowed to tell them you want to stop and ask for somebody else.
For the sake of your mental health, it's necessary for you to find a therapist you can trust and build a bond with. It's one of the biggest factors of healing!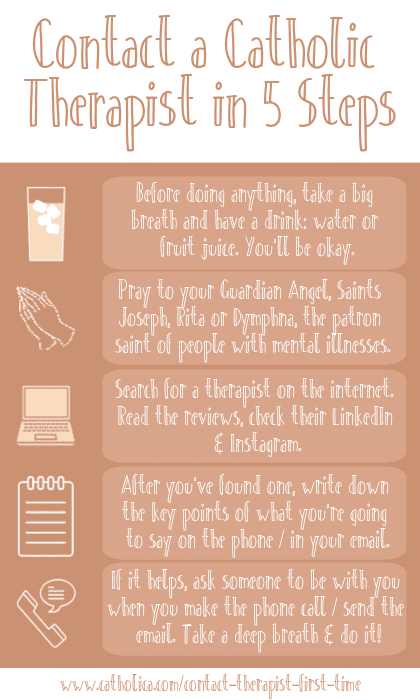 ---
Reach a Catholic Therapist for the First Time in 5 Steps!
1. Take a deep breath and have a drink before doing anything.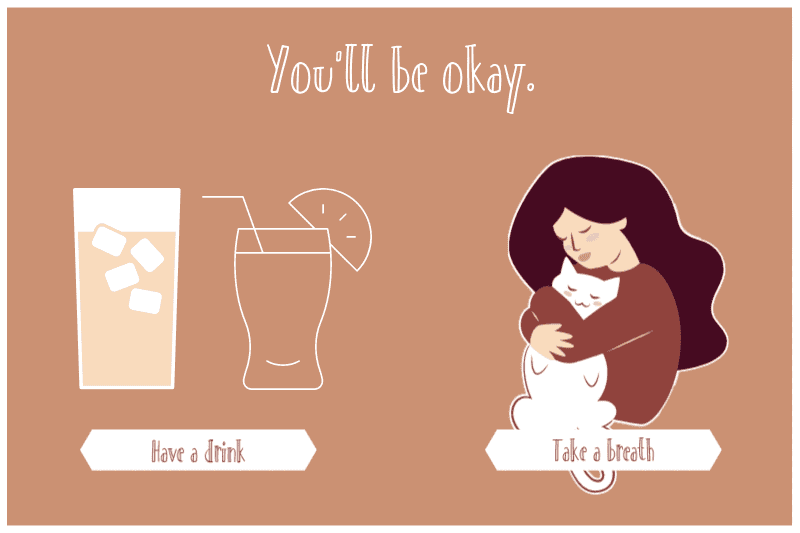 Try to let yourself feel the emotion (if you suffer from an anxiety disorder) without giving in to it. Feel your strength and determination, but also acknowledge your need for help.
Think about what you want to gain from therapy, and how much this is going to change your life.
If your stomach can handle it, have a nibble (fruit or a treat) and set aside some candy ready as a reward.
I usually take a deep breath: inhale for 5 seconds, hold it for 7 seconds, and then exhale until your lungs feel empty.
Once you feel calmer, progress to the next step.
2. Offer a small prayer to your guardian angel to guide you towards the right therapist.
As well as your guardian angel, offering a prayer to Saint Dymphna, the patroness of people suffering from mental illnesses, is a great idea.
St. Dymphna is reputed to help people afflicted with depression, ED, bipolar disorders, schizophrenia, etc.
I usually invoke her when I feel a panic attack coming and I find St. Dymphna pretty potent.
Down below is one of the prayers you can say whenever you feel the need.
Lighting a candle, doing the sign of the cross, or whispering a little prayer to Jesus or a saint you feel close with are all great ideas too!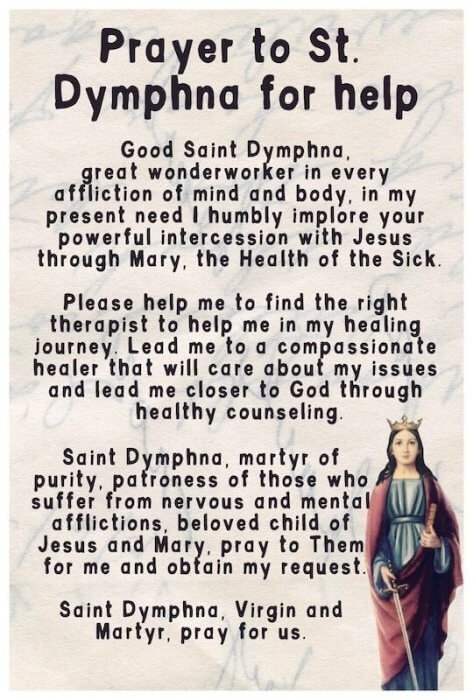 3. Search for a therapist online or ask for a friend's opinion.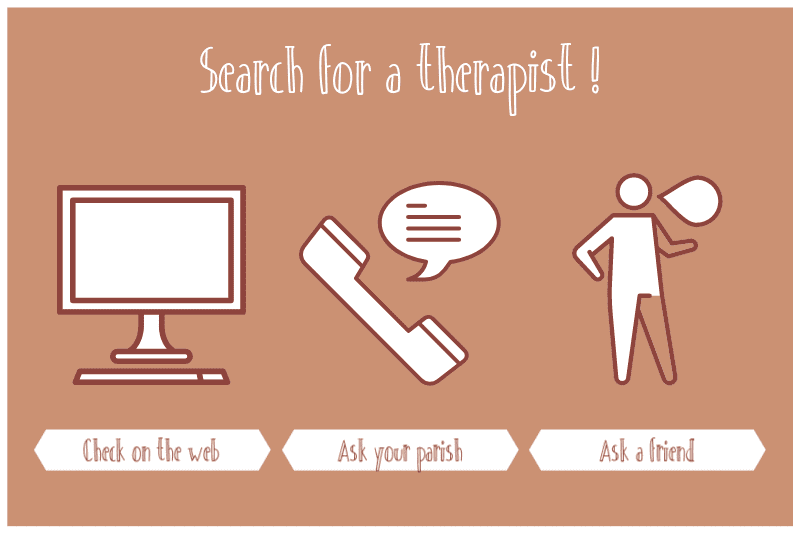 I asked around me or in my parish if people knew a good therapist. I found a few priests through my parishes, and they connected me to different therapists or were therapists themselves. I also searched on Google.
I'd advise searching for Catholic (or at least Christian) therapists. CatholicTherapists.com is a very useful resource and can provide you with the contact info for a Catholic counselor or Christian therapist.
If you're fine with potentially having a non-Christian counselor, you may wish to consult Counselling Directory.
Sidenote: the Sacrament of Reconciliation offered by a Catholic priest can be a very good way to start your healing journey.
4. Get prepared.
Write down what you're going to say on the phone or email: your name, age, gender, social security number, when you're available throughout the week, etc.
You can also add other info just in case, such as if you have a special recommendation from your doctor, if you have a specific mental disorder (already diagnosed), or if you already have medical treatment going on.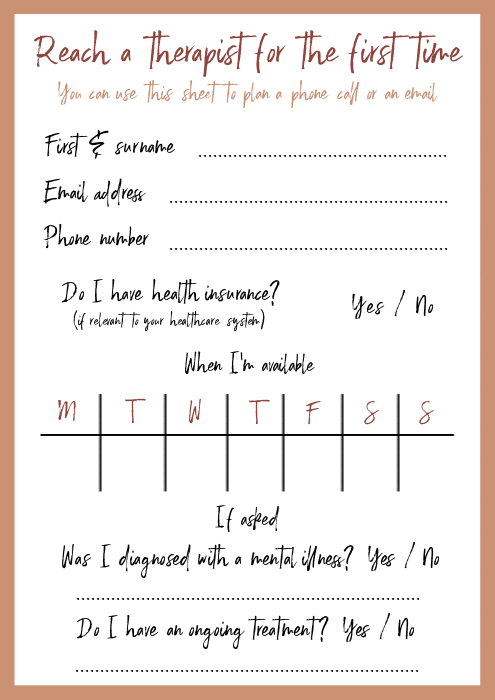 5. Ask for someone to be with you.
Don't feel bad for wanting support and encouragement. My husband sometimes convinces me to do it on my own, sometimes he prepares a small reward, but he's always the kindest supporter when I need him.
Ask a friend, sister, mum, or spouse to sit down with you when you make the phone call if you feel it'll help (especially your spouse if he enjoys helping you.) Very often, you'll make him or her feel great about being involved with your growth!
Don't let fear eat you up. Offer your fears up as an offering, as a way to save another soul.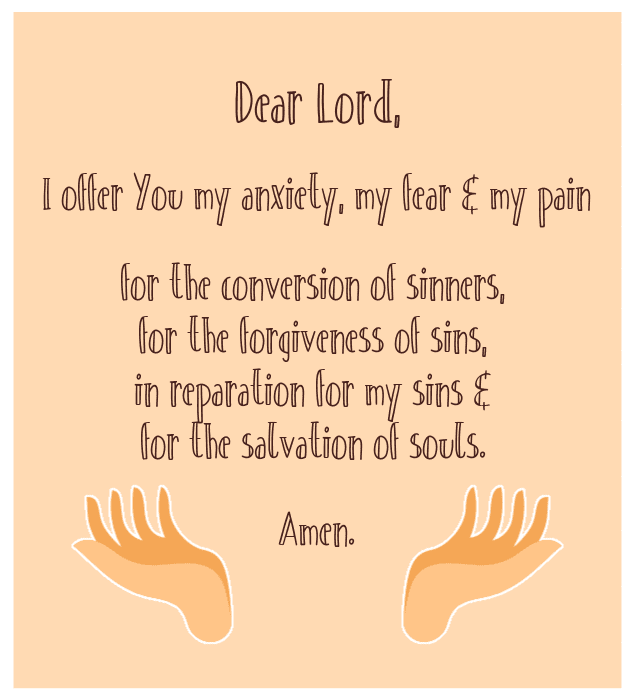 ---
Okay, now I feel ready to contact a therapist.
Alright. So you know how to contact a therapist or a counselor. Now you have to decide if you want to phone or email them.
Emailing a potential therapist is better, because, if you're anxious, it'll make you feel less overwhelmed. You'll either reach the therapist/priest themselves or their medical secretary. It'll also leave them time to get back to you properly.
You'll be welcomed by a medically-trained person. They're used to handling people with anxiety, bad mental health, or even people who were reluctant to call due to heavy trauma! Whatever you need to get off your chest, someone will be there to help you and make you feel safe.
If you initiate contact via phone, your first contact should be well-prepared. This is the best way to keep your emotions in check and let the therapist answer to the best of their abilities.
I often had therapists asking me a few questions about how I was feeling and the gravity of my symptoms. It wasn't casual curiosity but rather a way to gauge if I could be put on the waiting list or if I needed to be received sooner. You should be prepared to answer their questions with a few details, just in case.
Now, there are a few questions you can also ask them in order to feel reassured and make an educated choice.
Questions to ask a therapist.
What are your qualifications, your professional background?
Do you have a specialism? (E.g. people with PTSD, abuse survivors, rape survivors, eating disorders, etc.)
Do you have a lot of experience working with people with my mental illness?
Is there a waiting list? If so, how long should I expect to wait?
What's your confidentiality policy?
How long will the average therapy last? What will it be like? How many times a week will you want to see someone with a disorder like mine?
If I cancel or miss an appointment, do I still need to pay? What are the guidelines?
I have a disability, can you adjust your therapy room or schedule around my other medical appointments?
I feel more comfortable with a male/female therapist, would it be possible to have a male/female therapist?
English is my second language, does someone speak my first language in your team?
If their answers don't satisfy you, it's okay to tell them: Thank you for your time and expertise, I will keep searching for a little while. Bye.
It's as simple as that. You're free to try as many calls as you want and to ask for as many explanations or clarifications you need before agreeing to an appointment. Be patient and don't give up!
---
You'll feel great after doing this. Believe me.
After doing this, you'll be on the right track. You can find either a psychologist, psychoanalyst, dietitian, or a sophrologist so feel free to pick the person that'll suit your needs best.
Luckily, I managed to find a great person. In my case, my therapist was a sophrologist and a sex-therapist. She completely understood my issues and how much I wanted to keep my faith relevant during our sessions.
I started seeing psychologists quite early on. My parents sent me to a therapist when I was 13, but it was completely useless as I couldn't trust this much older man. I thought Why would he care about my issues? and I don't want him to tell everything back to my parents, so what's the point?
I kept this shield and discomfort around therapists. I always postponed calling psychotherapists and missed my appointments due to fear.
Now I recognize that I wasn't ready. In fact, I wasn't ready to see a therapist for many years. Don't be hard on yourself if you're not ready too. Being self-aware will give you stability! One day, you'll know in your heart that you've enough strength to start this journey.
Now, do what you need to do for your own growth and healing. You've got this!