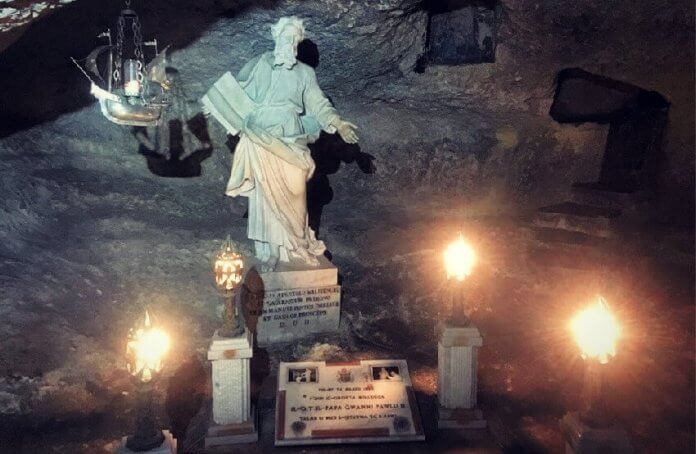 After a national (but expected) train strike in France following our Catholic wedding in pastoral countrysides, we just about caught our midnight plane to Malta, fumbling to our 4-star hotel in Saint Paul's Bay, Qawra.
Growing up Evangelical, I'd always been fascinated by St. Paul, and overlooking Saint Paul's island, nearby to where we stayed, my wife and I couldn't help but meditate on the shipwreck that would change Malta forever.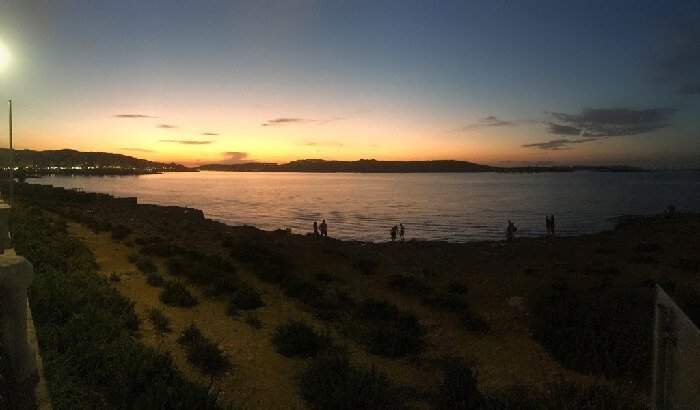 We're speaking, of course, about St. Paul's shipwreck and the Catholic light that shone brightly for three months hidden in a small grotto 1960 years ago.
The grotto (in reality a small, damp and seemingly unimportant cave) was the refuge of St. Paul and his followers while they traveled from Cyprus to Rome.
Looking over this small island, my wife and I quickly formed the plan to visit it as soon as possible.
Our Journey
Driving 25 minutes from Qawra to Rabat, we entered the old town blessed with abundant free parking and a gas station.
We knew we'd entered Catholic territory when the picturesque streets that we roamed burst with icons and statues of our dearly beloved saints.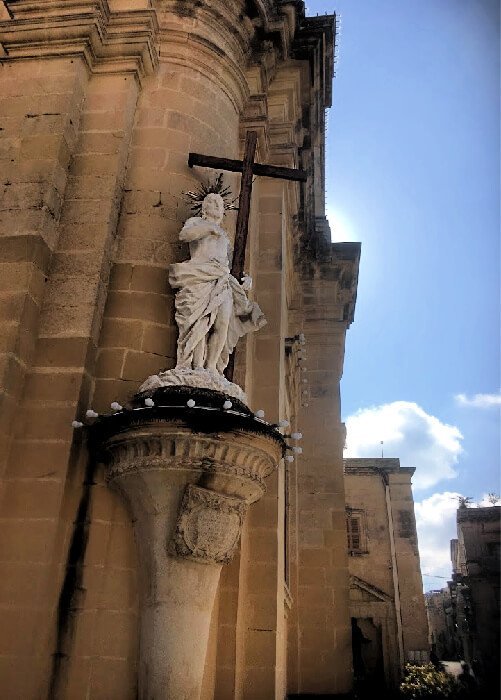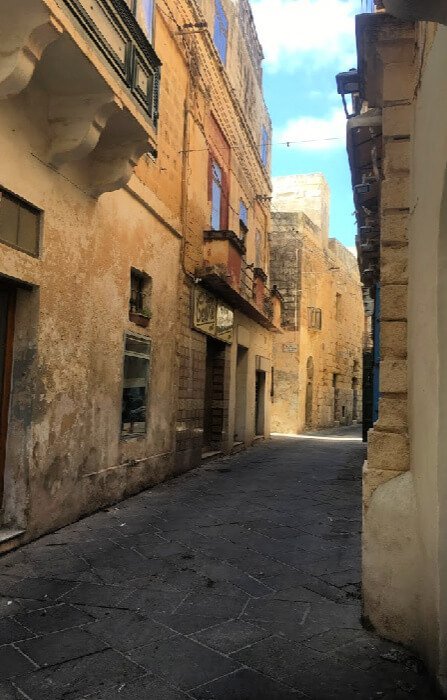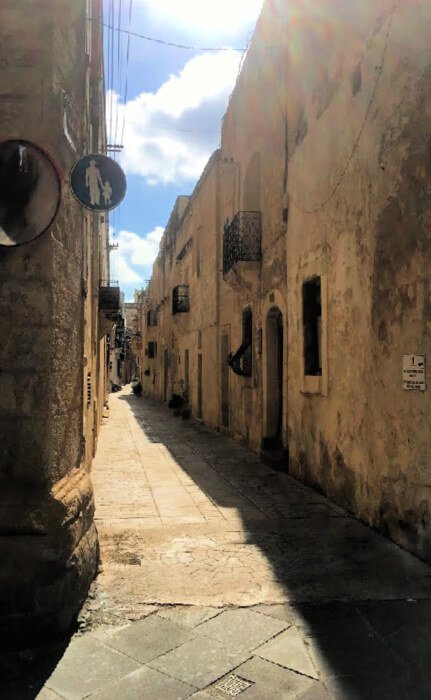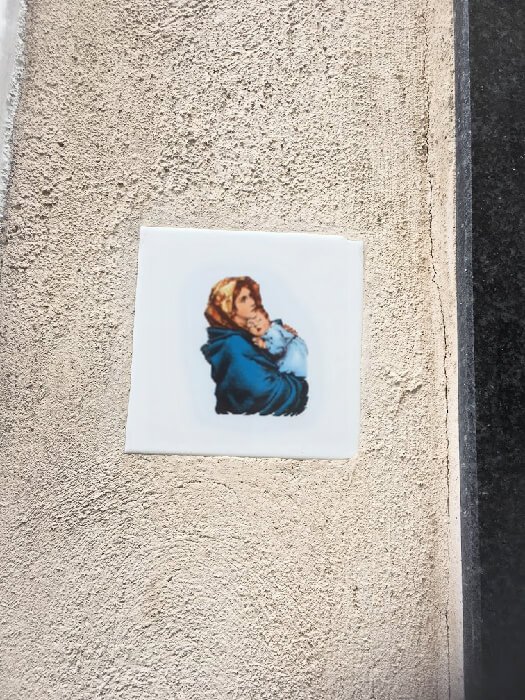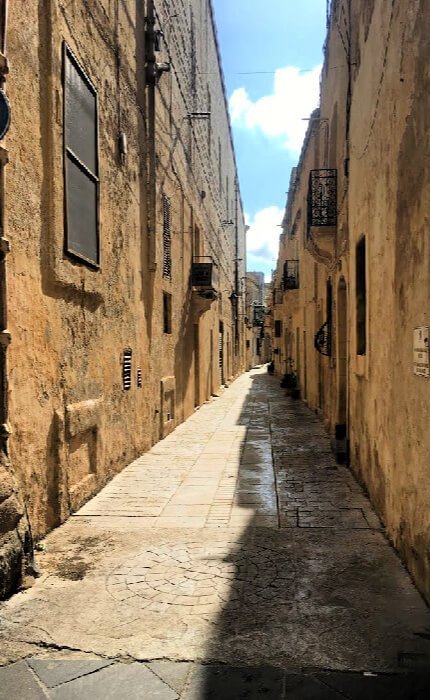 St. Paul was calling us and, in about ten minutes, we arrived at the towering and impressive Collegiate Church of Saint Paul.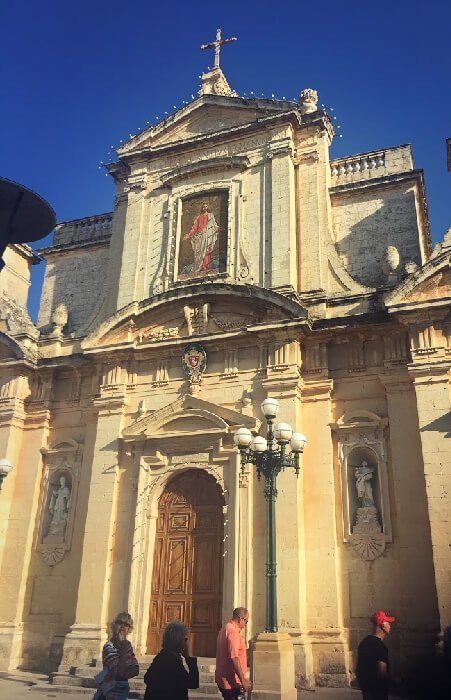 How to Get to St. Paul's Grotto
The abundance of free parking and a gas station in Rabat makes driving the most convenient if you're visiting from outside and don't mind renting a car from one of Malta's infamous car rentals.
However, the budget option would be taking the bus as Rabat is a main residential area served with extensive bus routes linking it with Valletta and other residential areas around Malta.
You can buy bus tickets on buses for about 2€.
For Malta's route maps and bus timetables,
click here
.
Heading to the Grotto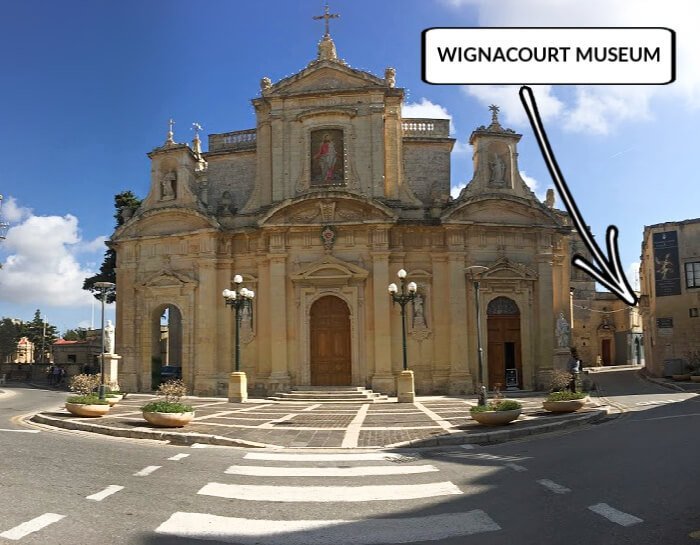 While it's tempting to be absorbed by the Collegiate Church of Saint Paul standing confidently in the small square, be sure to look to its right-hand side (if looking head-on) into College Street (Triq-Il Kullegg in Maltese.)
It's a quaint alley and down it on its right you'll find the entrance to the Wignacourt Museum that contains the grotto, catacombs, restaurant and access to the Collegiate Church of Saint Paul.
Opening Times
The Wignacourt Museum (i.e. St. Paul's Grotto) is open Monday to Sunday from 09:30 – 17:00.
Price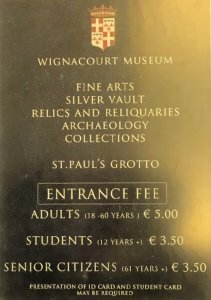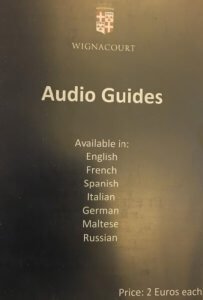 Although other websites indicate free entrance, this has changed due to recent refurbishments.
Adults (18-60) pay 5€ each
Students (12+) and seniors (61+) pay 3.50€
The sign presented no price for children under 12, so it might be free for them (but we didn't ask.)
Audio guides are available to purchase for 2€ each. They're available in English, French, Spanish, Italian, German, Russian, and (of course) Maltese.
You may be required to present an ID card or student card while paying for your tickets.
Entering Wignacourt Museum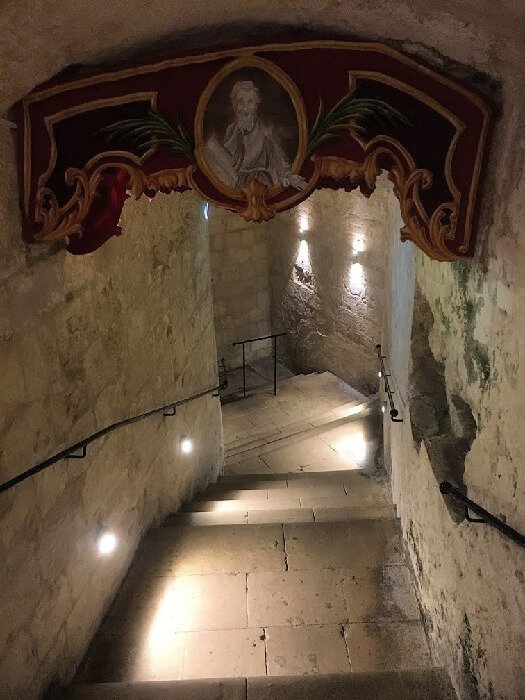 If you struggle with walking, suffer from serious claustrophobia, or are very tall, this trip may not be for you!
After purchasing your tickets you'll pass a turnstile into a small room filled with a few introductory facts and interesting old photographs worth inspecting briefly.
Moving on, you'll climb down a flight of stone steps into a cave. And this is where it gets cool.
You'll be following in the footsteps of Pope St. John Paul II and Pope Emeritus Benedict XVI, who visited here in 1990 and 2010 respectively.
St. Paul's Catacombs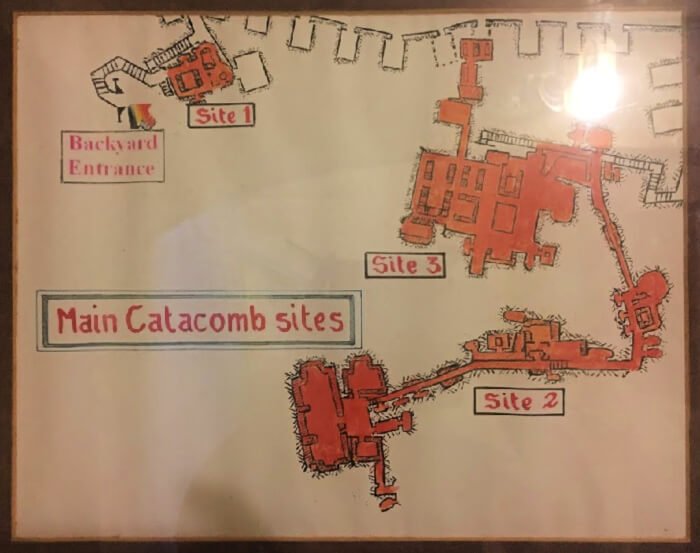 Down the steps, you'll be offered St. Paul's Catacombs (and WWII shelters) on the left and the blessed grotto straight ahead.
While the catacombs and shelters are certainly worth visiting, we pretty much skipped these because my wife found them a little too claustrophobic, so I visited them alone later.
After passing through the catacomb's entrance featuring tools, helmets and lamps, you'll travel down narrow, winding corridors.
You'll witness cells carved into the rock that were used as shelter by Maltese soldiers and civilians during WWII.
Some cells are wide, some are tiled…but all of them will make you feel lucky to not have been among those stuffed down here around 80 years ago.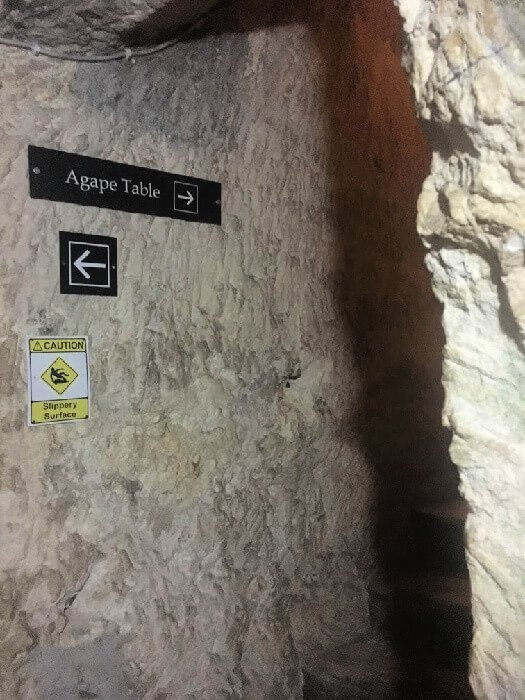 Located deeper in this little maze of corridors, you'll find the Agape Table. A curious construction that was used by the early Christians in their "agape feasts".
These feasts were most likely commemorative and fraternal meals which took place near the tombs of loved ones on the anniversaries of their death.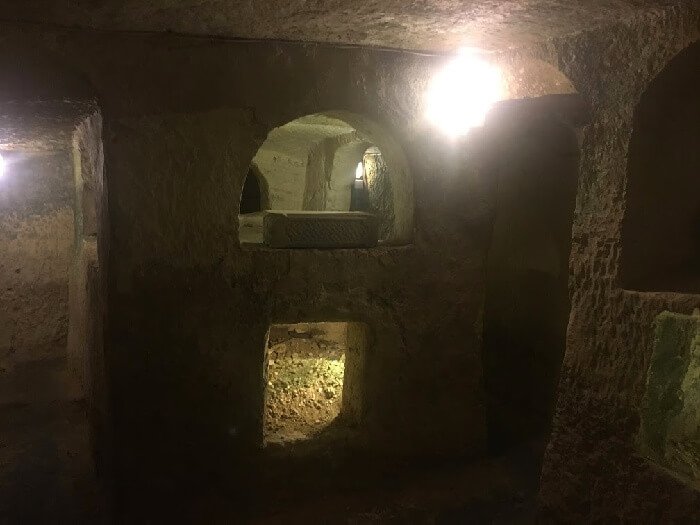 If you're heading to the catacombs, I'd recommend paying the extra 2€ for an audio guide to really get the most out of it.
The Entrance to St. Paul's Grotto
After visiting St. Paul's Catacombs (or instead of), head straight ahead into the blessed grotto.
You'll climb down a few steps and enter a medium-sized room containing altars, statues, and frescos.
On your first right is Saint Luke's altar, the second-right Saint Paul's altar, and a third altar faces you from the opposite side of the room.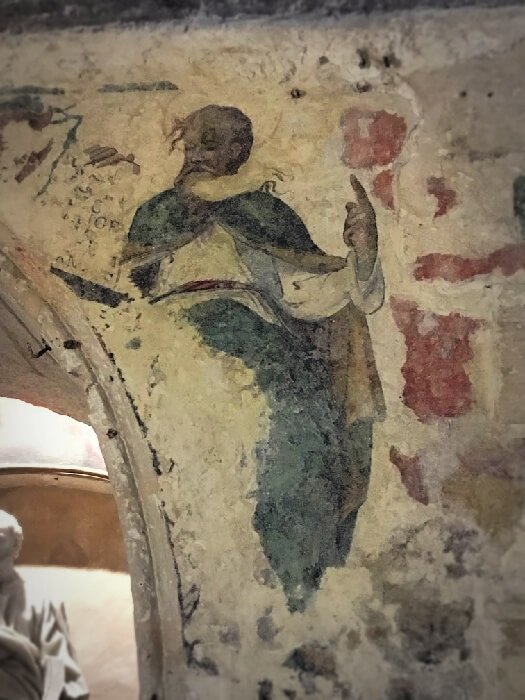 Only one of the wall frescos has survived and, according to the speculation of one American I overheard, may show Saint Paul and date to the 4th century. (Though to me it looks a little too pre-Raphaelite to be that early.)
I and my wife, having just got married, spent a while in this room praying the prayer to Saint Paul printed on laminated paper in front of his statue.
(And yes, we got a photo of it…because that's what Millenials do!)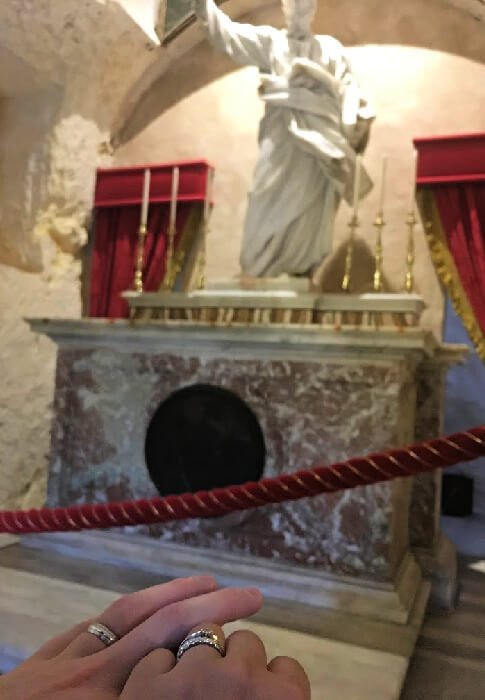 Here is the text of the prayer to Saint Paul that we prayed…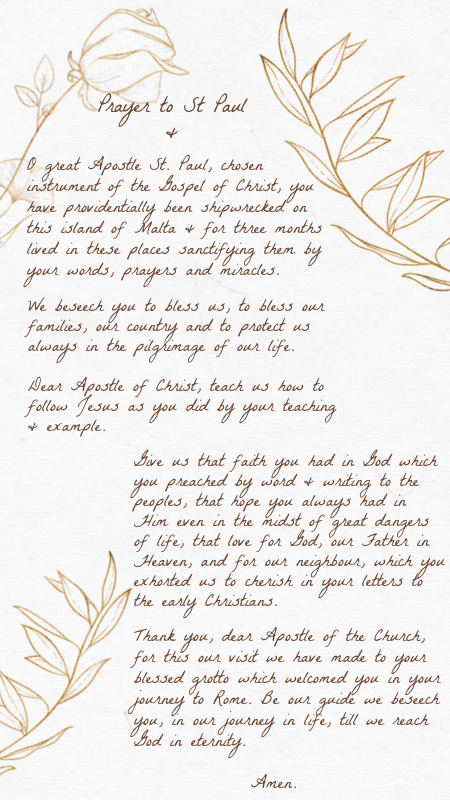 In this room, you can also light a candle as you prepare to enter the blessed grotto just a few steps away off to the left-hand side.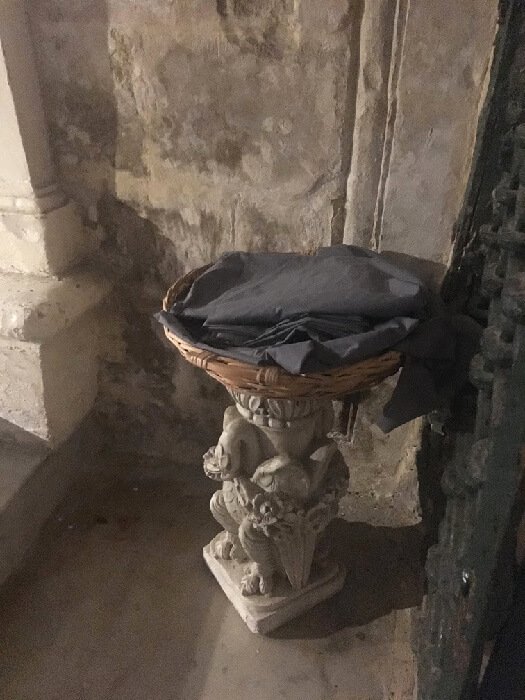 Shawls are conveniently located near the grotto's entrance and can be used to cover up bare skin before entering this holy place.
Inside St. Paul's Grotto
Entering St. Paul's grotto was an unforgettable experience for me.
The space is simple and small, featuring a statue of St. Paul, lamps (one in the shape of a ship), and a bust commemorating Pope St. John Paul II's visit here.
In truth, there isn't much to look at inside, but if you slow down and take a moment to appreciate the momentous history of the place you'll definitely appreciate it more.
The History of St. Paul's Grotto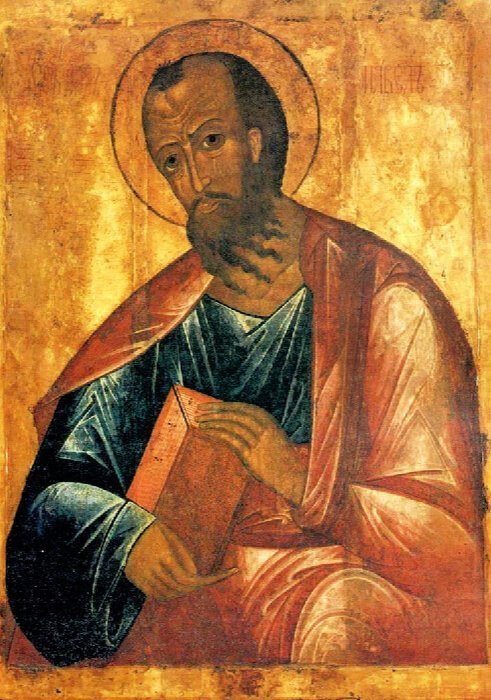 St. Paul wasn't always a Christian. He was a Jew who studied under the Pharisee Gamaliel, a leader of the Sanhedrin in the early 1st century and who may have later converted to Christianity himself.
St. Paul—or "Saul of Tarsus" as he was known then—persecuted Christians before encountering the resurrected Jesus on the road to Damascus around 31–36AD.
St. Paul, accompanied at various times by other saints, evangelized the pagan world for twenty years, receiving approval from Saints Peter, James, and John when visiting Jerusalem in 49AD.
Ten years later in 59AD, after being held prisoner for two years by the Roman procurator Marcus Antonius Felix, he appealed to Caesar and set sail to Rome.
While passing through Cyprus towards Rome he was shipwrecked on an island called "Melita" (now known as Malta.)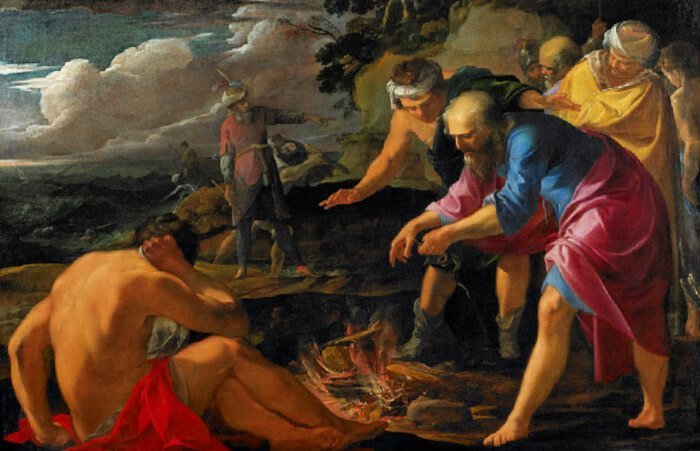 The whole incidence is recorded in Acts 27:27 – 28:11, and I have included audio for it below from the NIV Dramatized Audio Bible.src 1, src 2
After landing on Malta, St. Paul was bitten by a poisonous snake but miraculously survived due to God's protection.
St. Paul then healed the chief official's father which led to "the rest of the sick on the island" coming to him and being cured.
Spiritual Reflections
Whilst the history is impressive, when I stood in that small grotto I couldn't help but see the humbleness of it all.
Did St. Paul and his followers hide here for safety? Or did they stay here simply to escape the heat and to rest?
Whatever the reason, St. Paul said Mass, taught the faith, and healed people here. And, most likely, slept here too in the claustrophobic darkness of this small cave.
How did St. Paul feel being here?
He'd been kept a prisoner in the Holy Land the previous two years and had intended to be in Rome appealing his case to Caesar, and now all of sudden he finds himself in this small cave on this small island.
All St. Paul and his followers could cling to was their faith.
It was in this claustrophobic cave that they were able to fully practice that faith before setting off again to Rome to where St. Paul would die.
Leaving St. Paul's Grotto
As I left the grotto, these reflections stayed in my mind.
It was also great noticing—hanging on a wall just outside the grotto—evidence that perhaps my own meditations were not too dissimilar from that of Pope St. John Paul II's.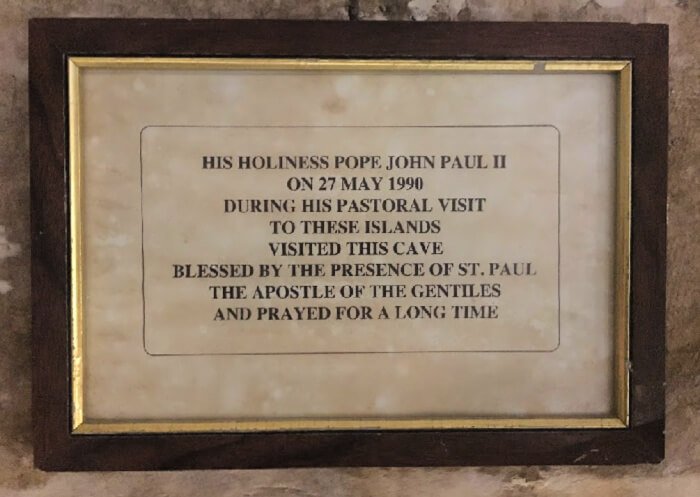 "And prayed for a long time"…I just love that last line!
Just before we climbed the stairs up to St. Paul's church built over the top of the grotto, my wife pointed my attention towards the man who had made this whole experience possible.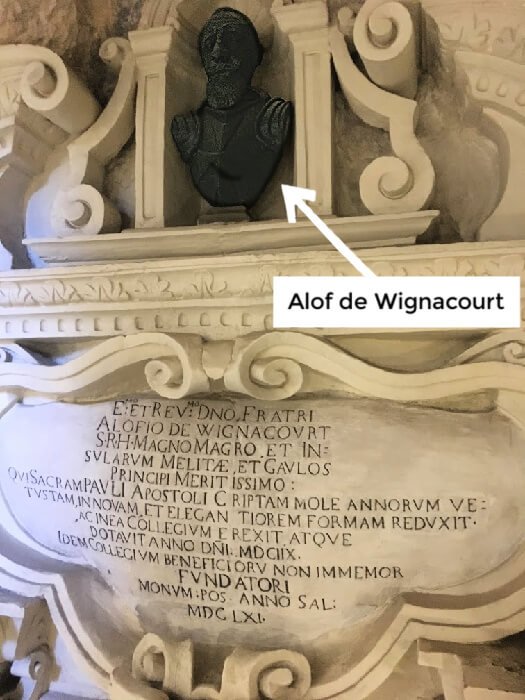 Alof de Wignacourt was a French Catholic nobleman who declared the date of St. Paul's shipwreck to be 10th February—a date still celebrated today (especially in the streets of Valletta in Malta.)
He also was the man who renovated this grotto and helped finance the building of the church built on top of it.
To which we move onto now!
The Collegiate Church of St. Paul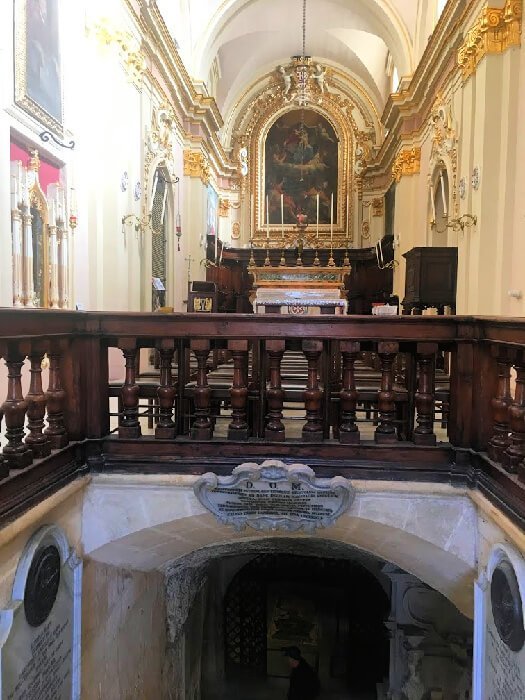 Moving away from the simplicity of the grotto, climbing up the steps I quietly thanked God for Alof de Wignacourt.
This part of the church, called the sanctuary of St Publius, is simply stunning.
The riches hidden in the hearts of those early Christians who resided in that dingy grotto were now to be seen in the exquisite Baroque architecture dating to the 17th century.
Filled with paintings and statues of St. Paul, our Lady, and Jesus, the whole space is peaceful and conducive to prayer.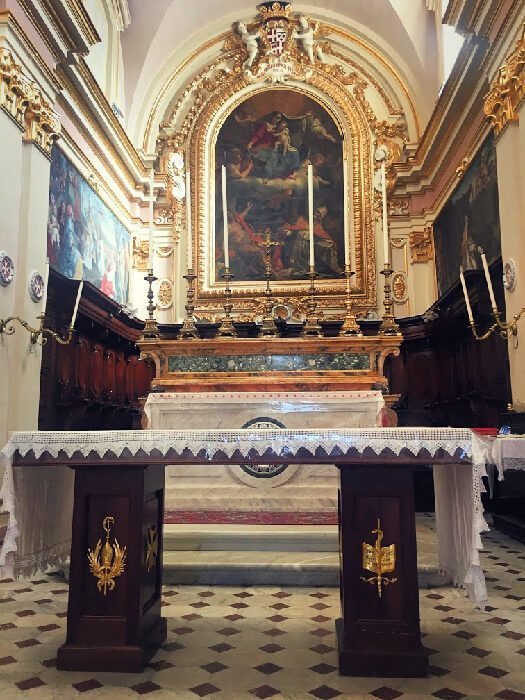 In fact, my wife and I prayed the whole Rosary here as a way to thank God for the graces he imparted to us on this trip.
After praying the Rosary, we turned around and retraced our steps to exit the same way as we'd entered the hour before.
And that was the totality of our trip to St. Paul's grotto—a trip I would heartily recommend to all, religious or not.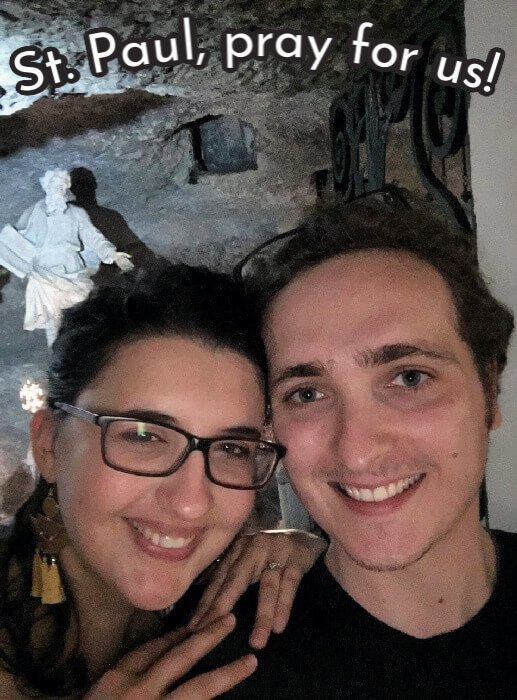 ---
Are you planning on visiting St. Paul's grotto in Rabat, Malta? If so, let me know how it goes!
And if you have any questions about this trip, just let me know in the comment section below.